Let's face it: Most cleaning products are full of harmful ingredients. How can our homes, spaces, and surfaces feel clean when we are using products that are harmful?
Does this label look familiar?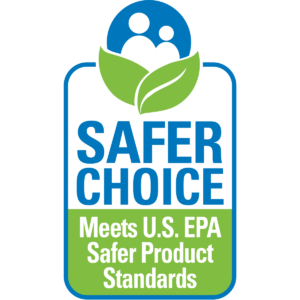 If you've purchased cleaning products before, you may have noticed this label. So what does it mean, exactly?
What Does EPA Stand For?
EPA stands for the Environmental Protection Agency which is an independent agency of the United States' government that is tasked with environmental protection matters.  
What is EPA Safer Choice?
The Safer Choice program was established as a program to help consumers make safer choices in their everyday shopping when it comes to household cleaning products. Consumers who purchase products with the EPA Safer Choice Label on it can feel confident that those products have been made with practices that directly benefit our environment by reducing, eliminating, and preventing pollution.  
Does Vermont Natural Coatings Have Any Safer Choice Products?
Yes! We are excited for our Non-Toxic Floor Cleaner to now feature the EPA Safer Choice Label.  
Our Non-Toxic Floor Cleaner is certified US EPA Safer Choice for its outstanding performance and unparalleled ingredient safety.  
This product works to prevent pollution directly at the source by using safe and more sustainable ingredients.  
The EPA certificate aligns with Vermont Natural Coatings' mission to create environmentally friendly responsible products that are a safer and better choice for both you and the environment.  
Using our Floor Cleaner is a great way to contribute to a safe, cleaner environment every day. It's easy to use and can replace other commonly sold floor cleaners on the market that are not nearly as safe or good for our environment.  
Shop Non-Toxic Floor Cleaner here 
See the Non-Toxic Floor Cleaner in action here