Concrete is a fragile material. It is porous, allowing it to quickly absorb liquids and it is susceptible to cracking and chipping. 
If you are considering utilizing concrete in your next DIY project, home renovation, or other projects, factoring in concrete sealer is a MUST.  
The one downside: There are a lot of concrete sealers out there that are full of dangerous chemicals and contain high levels of volatile organic compounds (VOCs)  
When using a product with high levels of VOCs, inhalation of these chemicals can cause headaches, dizziness, fatigue, nausea and more. They will continue to off-gas for years and years after the product has cured, continuing inhalation and susceptible to continued health effects. 
How Our Non-Toxic Concrete Sealer Stands Out

 
Our mission is to change and revolutionize the coatings industry by creating concrete and wood coatings that are ultra-low VOC and safe for people, pets, and the planet.  
We recognized that many of the leading concrete sealers were not performing as they should which led to the creation of Vermont Natural Coatings DynaSeal® Concrete & Masonry Sealer.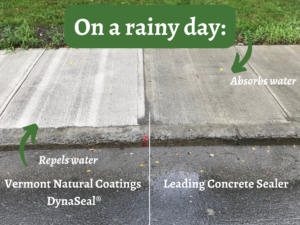 Our DynaSeal® technology is an all-in-one concrete and masonry sealer that primes, seals, and waterproofs with just one coat.  
Most concrete sealers sit on top of concrete and require a recoat every 1-2 years. DynaSeal® penetrates deep beneath the surface to protect the concrete from water and decay that will provide years of protection with just one coat!  
Product Highlights
Contains ≤2 g/L VOCs

 

Abrasion and mar resistance

 

Provides high impact resistance and hardness

 

Resistant to salts and chlorides

 

Non-film forming

 

Eco-friendly and non-toxic

 

Protects against mold and mildew stains

 
Check out our video to see DynaSeal® Concrete & Masonry Sealer in action against the competition. 
Shop the DynaSeal® Concrete & Masonry Sealer here.