Refreshing Your Home to Create a Space for Wellness
Written by On-Par Parent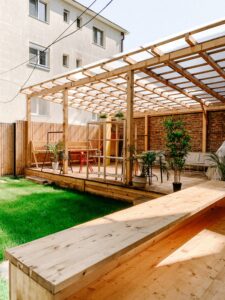 The world can be a crazy place. It's important to make the time to relax, and where better to do that then in your home? If your home isn't yet the calm and healthy oasis you need to refresh, don't worry. There are plenty of ways you can update your space for wellness no matter your budget. Vermont Natural Coatings shares a few ideas. 
Prioritize Improvement and Renovation Ideas 
You likely have several home improvement and renovation ideas that have been sitting on the back burner. To help decide which projects to tackle first, consider those that boost your home's value. If you're planning to sell your home in the not-so-distant future, think about what buyers are looking for. For example, home offices are desirable with so many people working remotely. Remember to keep receipts for all materials or hired professionals. Also, take before-and-after photos.  
Although value-building is an important factor in deciding which home renovations to choose, it's also important to update things that will make your home a better space for you. If you work from home or need a calm personal space apart from other household members, adding a home office is the perfect choice. Choose furniture that is ergonomic, but also attractive. You want to be comfortable and also enjoy the aesthetics of your space. Select your paint and design colors with these goals in mind, too.  
Turn Your Basement Into a Fitness Center 
Consider turning your basement into a fitness center dedicated to yoga, meditation, or working out. Regular exercise provides numerous benefits, including reducing the symptoms of anxiety and depression. Exercise is also essential for cardiovascular health and maintaining a healthy weight. While you don't need a lot of fancy equipment to work out, look into a few key investments that will motivate you to work out. A recumbent bike is a great choice, especially if you find it hard to get out and cycle. They don't take up a lot of space and you can find good deals online.  
If you decide to renovate your basement, work with a reliable contractor to ensure the safety and quality of your project and save yourself a lot of headaches. The costs of basement renovation vary significantly based on your location, the materials, and the full scope of your project. Hardwood is preferred for these projects since basement carpeting is prone to mold. However, if you decide to go with carpeting, make sure the contractors include subfloor installation.  
Add More Natural Light
Natural light can help you safely receive your daily dose of vitamin D and save money on your energy bills. Consider adding another window or increasing the size of one or more windows already installed in your home. You may also consider adding a skylight. Keep in mind that opening your windows can help refresh the air in your home.  
Deep Clean Your Home
Most people don't think about deep cleaning their homes until it's time for spring cleaning. However, deep cleaning your home can have a profound impact on your physical and mental wellbeing. By taking the time to clear out clutter, dust, and dirt, you can create a space that is inviting and calming. In addition, deep cleaning can help to eliminate harmful toxins from your environment. All of these factors can contribute to improved physical health and a sense of peace and relaxation. So, stock up on cleaning supplies, from floor cleaners that are certified Safer Choices by the EPA, to microfiber cloths for dusting, and get cleaning! You may be surprised by the difference this makes. 
Beautify Your Lawn 
Regularly breathing in fresh air can clean out your lungs, increase energy levels, and improve your focus and mood. If you're trying to get outside more, consider treating your yard so it looks attractive. An easy way to improve the look of your lawn is to have it fertilized. 
When connecting with local contractors, evaluate their services pre-meeting by reading reviews online. Popular review sites you can browse include Angi and Yelp. Always aim for sustainable, environmentally-friendly treatments. If cost is an issue, look for fertilizer companies that currently offer deals, credits, or other incentives.  
Create an Outdoor Seating Area 
Create an outdoor seating area on your existing porch or covered patio. Consider adding a fire pit or an outdoor fireplace to stay warm in cooler weather. Comfortable seating with waterproof cushions is crucial. You might also consider adding an outdoor rug, a table, and lighting to make the space extra cozy. 
If you don't have a large porch or patio, consider adding a deck. Not only do decks extend your living space and look fantastic, they also add value to your home. And be sure to use Vermont Natural Coatings to give your new deck a gorgeous finish with a green touch. All of their finishes meet the highest environmental standards and have quality that lasts.  
Enjoy Your Wellness Space
With a little work, you've created a calm and happy place you can retreat to no matter what the world throws at you. You've made changes to the interior and exterior of your home that extend the living space and help you to unwind. You may have even earned a valuable boost for your home along the way. Now step back, take time to breathe, and enjoy the oasis you've created. 
Photo Credit: Toa Heftiba via Unsplash