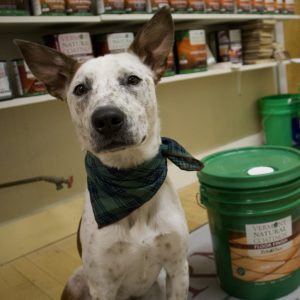 If you read our previous blog post all about VOCs, then you're familiar with the health effects that they can cause. 
Not only do VOCs cause health effects to humans but also to our beloved pets!  
Effects of VOCs on Pets
VOCs, volatile organic compounds, which cause indoor air pollution, can irritate our pets' eyes, nose, and throat, cause skin reactions, nausea, and fatigue.
In worst case scenarios, they can also cause cancer and organ damage.  
How Do I Keep My Pet Safe From Indoor Pollution?
The best solution to limiting exposure to VOCs and indoor pollution is to choose products that are low or zero VOC.  
Some products that claim to be low or zero VOC still contain harmful ingredients in them such as carcinogens, mutagens, and reprotoxins.  
Our Vermont Natural Coatings products do not contain ANY of these dangerous ingredients, making them completely safe for your pets.  
Our products range from 0 VOC to extremely low levels of VOC, ≤180g/L (grams per liter), with the lowest national standard for VOC levels being 275g/L in California.