Vision, Dairy, Whey and Science . . . .The PolyWhey® Story
PolyWhey® started as collaboration among farmers, furniture makers and University of Vermont scientists to expand the value of Vermont's agriculture and forestry industries. It has emerged as new coatings science, creating a category of wood finish with the durability of oil-based finishes and the advantages of waterborne finishes with none of the disadvantages of either. PolyWhey's patented formula uses whey protein, a byproduct of cheese making, to replace toxic ingredients traditionally found in wood finish. The result is a naturally durable, safe and easy-to-use finish that has established the highest performance and environmental standards. We started on the shelves of one retail store in Greensboro, Vermont (population 770) and now are available in stores throughout the United States and Canada.
"We've grown by building strong relationships with retailers, contractors, architects and homeowners. Each connection is based on providing the best wood protection while making application and living conditions dramatically better. We're as concerned about indoor air quality as we are outdoor air pollution. We're proud of our lasting connections and partnerships and remain committed to developing products that use sustainable ingredients and are safe for people, pets and the environment."

Andrew B. Meyer – Founder & President
About Andrew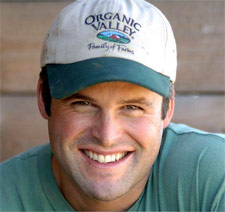 Andrew grew up on an organic dairy farm in East Hardwick, VT, which his family still operates today. After graduating from the University of Vermont he traveled the world helping farmers improve their farm efficiency and output. He joined the staff of US Sen. James Jeffords as an agriculture policy advisor before leaving to found Vermont Natural Coatings.